Life can be unpredictable and scary situations often arise unexpectedly
Teaching awareness, implementing safety routines, and modelling appropriate behaviour are some of the most important life skills we can impart to our children to help them stay safe.
When they can't be with you, provide an
additional layer of support

(and comfort) with our comprehensive safety products.
Have you ever considered what would happen in these scenarios?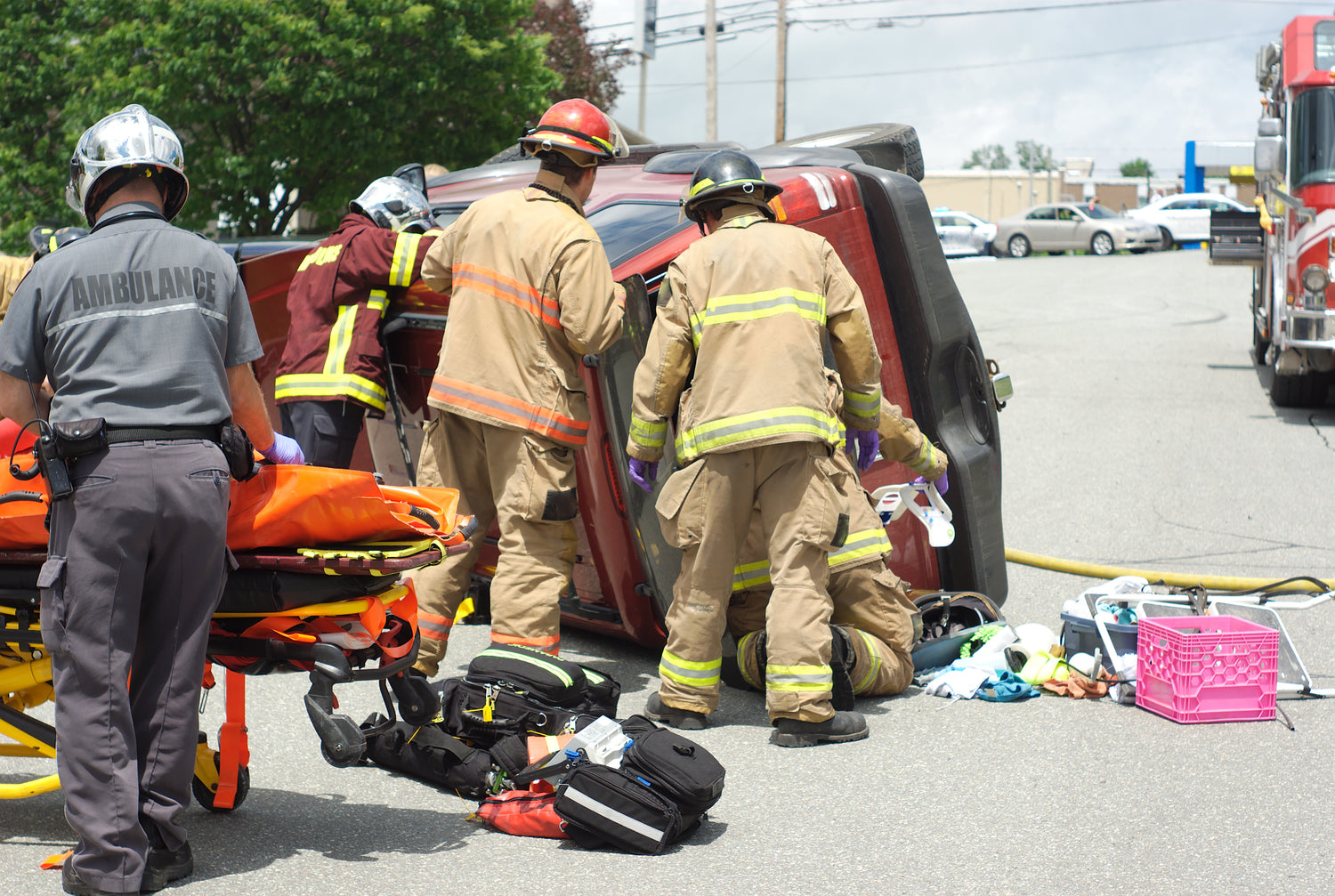 You are in a serious car accident with your 6 month old and they need help but you are unconscious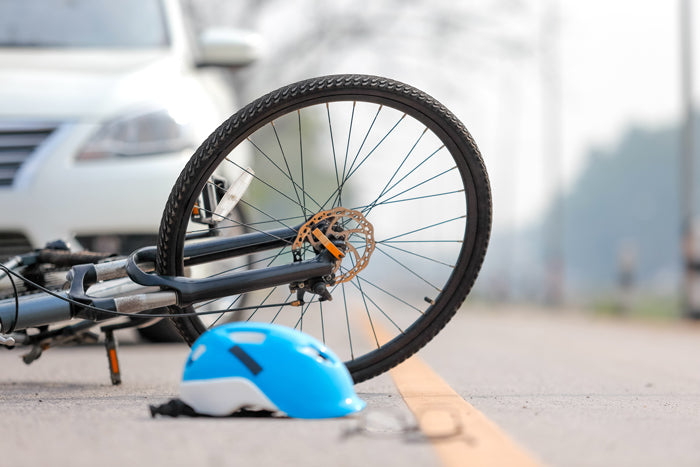 Your child has an allergic reaction on a bike ride and they don't have a way to reach you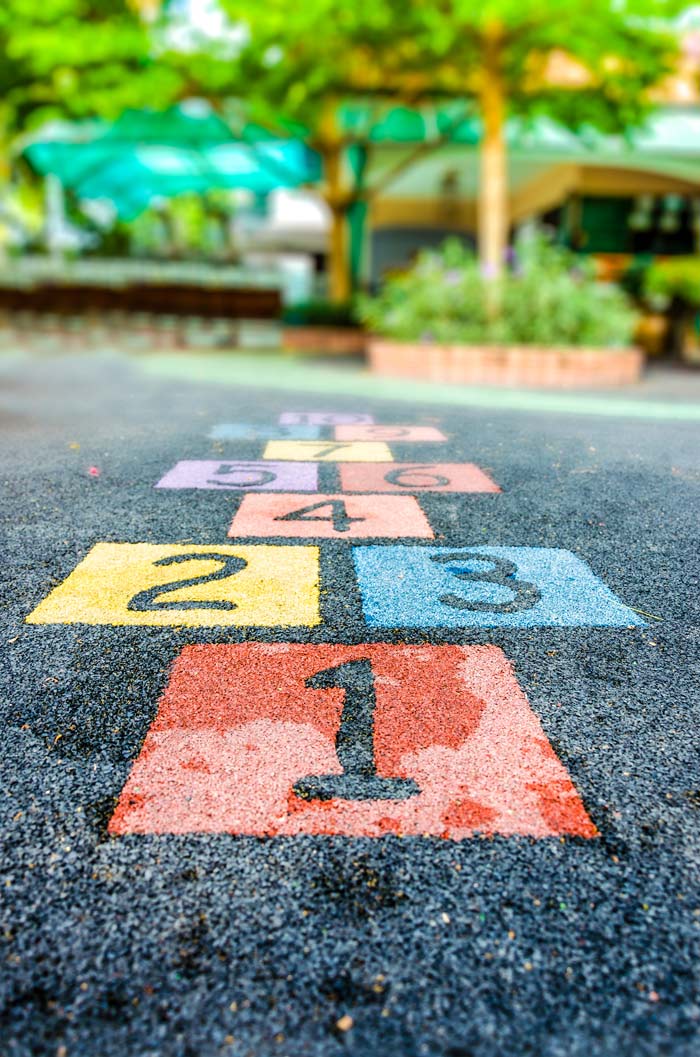 Your absolute worst nightmare happens and your child goes missing from the playground
No one likes to contemplate these frightening scenarios but they can happen. Be prepared.
When there is
no time

to lose, get your kids the help they need FAST!
Both our Child Identity Kits and First Responder Emergency Cards store important, and often crucial, information that First Responders (Police, EMS and Fire) can access quickly when their assistance is required.
Regular price

Sale price

$18.79 USD

Unit price

per

Regular price

Sale price

$18.79 USD

Unit price

per
The best way to ensure your response in an emergency is timely, beneficial and appropriate is to be prepared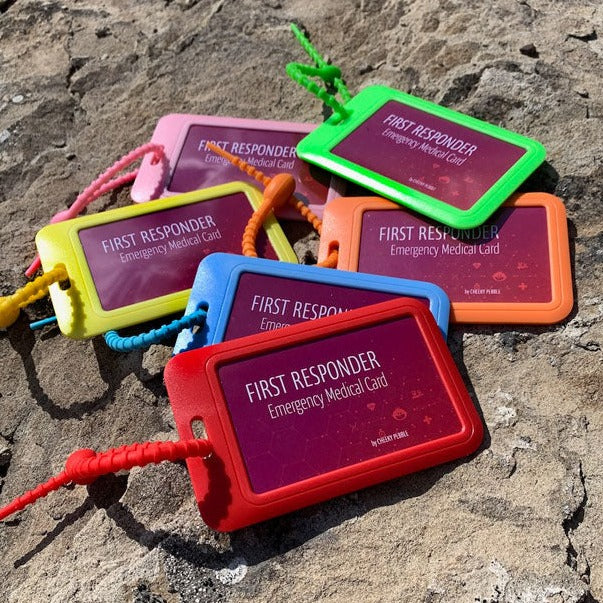 Why a First Responder Card?
Made for
at-the-scene

access by First Responders, or other helpful adults, to critical information about your child if they need medical attention or are found alone.
Quick intervention can help reduce injury, impact and trauma
Enables responders to:
- use your child's name to quickly reduce anxiety
- provide accurate and timely treatment if necessary
- interact thoughtfully and appropriately (special needs)
This card travels with/on your child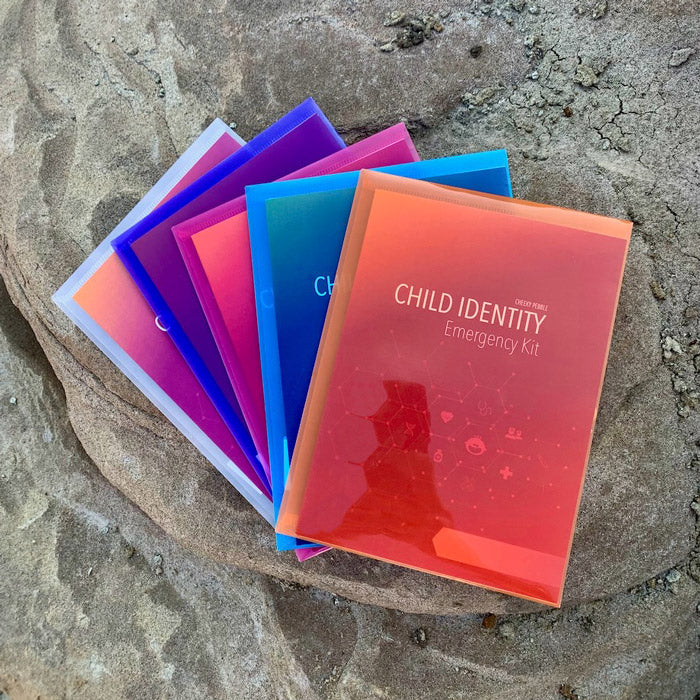 Why a Child Identity Kit?
Designed for immediate
sharing with Law Enforcement

if your child ever goes missing.
The first 24 hours after a child has gone missing are critical
Enables Police to quickly:
- release a detailed description of your child
- enlist all possible sources of assistance including the media and public
- alert airports, bus depots, border crossings, etc.
This kit is stored at home in an memorable, easily accessible location
High stress can negatively impact cognitive functions like memory and decision-making
"Oh, I'll be able to remember..."
Sadly, this is an alarming and potentially dangerous conviction held by some parents. They believe they will be able to recall pertinent, and possibly critical details about their child if they ever went missing.
This assumption is so unrealistic and unlikely that it is almost impossible. Most of us can't remember our children's shoe size on a regular day, let alone when we're panicking with high emotions, extreme stress and fear during an emergency situation!
It's been scientifically proven that we don't respond well in emergencies so having this unrealistic expectation is harmful and potentially detrimental to your child. Please don't rely on your brain to remember crucial information when you need it the most – prepare in advance.
Deeper dive – what are the differences?
What is a First Responder Card?

Folded, business-card sized booklet kept inside a brightly coloured plastic case with flexible twist tie looped through

Hard case keeps private information safe and protected
Case is noticeable and easy to spot
Tie is versatile and can be attached to multiple places: carseat / diaper bag / back pack / purse / clothing

What is a Child Identity Kit?

Clear or coloured plastic sleeve with velcro-close containing:

5 x 7 inch booklet detailing personal, physical and medical information about your child
Two small envelopes for DNA collection
Fingerprinting ink strip

First Responder Emergency Card contains:

Pertinent medical information for First Responders:

Crucial details for life sustaining medical assistance
Special needs or disabilities
Allergies, medications
Emergency contacts and physicians/specialists
Contains no personal information that can be misused

Child Identity Kit contains:

Detailed documentation for Law Enforcement:

Complete personal and medical information
Finger print section (with ink strips)
Physical Details and Body Map
Dental Chart
DNA sample envelopes
Current photograph
Emergency contacts and physicians/specialists

First Responder Cards are helpful for ALL KIDS but particularly those might have additional medical requirements:

- Severe Allergies and Sensitivities
- Autism ASD / ADHD / OCD / DMDD
- Sensory Processing Issues / Impulse Control
- Hearing / Vision / Mobility Concerns
- Diabetes / Epilepsy / Autoimmune disorders
- Kids who are prone to running away and not staying nearby

Child Identity Kits are beneficial for EVERY CHILD but particularly those who are unsupervised for parts of the day and are at greater risk:

- Take city transit regularly

- Go to and from school/activities by themselves

- Travel between different homes

- Truancy / Quitting school / Troubled

- Juvenile delinquency / At risk

- Living on the streets / Runaway
Fill cards out right away + update regularly!
⚡️These only benefit you if they're ready
BEFORE an EMERGENCY
⚡️Children grow fast so we recommend updating these
EVERY SIX MONTHS

to keep info accurate
Being prepared won't make the situation any less stressful but you will have contributed in a positive way, and that is key
Hope for the best and be prepared for the worst
Regular price

Sale price

$18.79 USD

Unit price

per

Regular price

Sale price

$18.79 USD

Unit price

per
Let us help you and your children be ready for the unexpected