Immediate, at-the-scene access to information First Responders need to help your loved one effectively
An extra layer of support that travels with them so assistance is always just a helping hand away
Designed to help when caregivers are unable to assist their child (or other vulnerable individuals) because they are unavailable, or unconscious / uncommunicative due to an accident.
First Responder Emergency Medical Cards contain all the critical information EMS (Police, Paramedics or Fire) need to know about your loved one if they're in an emergency or found alone. It enables first responders, and other trusted adults, to interact effectively and provide accurate and informed treatment if necessary. 
These cards are perfect for anyone who might require assistance but might not be able to speak for themselves.
Regular price
Sale price
$18.79 USD
Unit price
per
Sale
Sold out
Share
View full details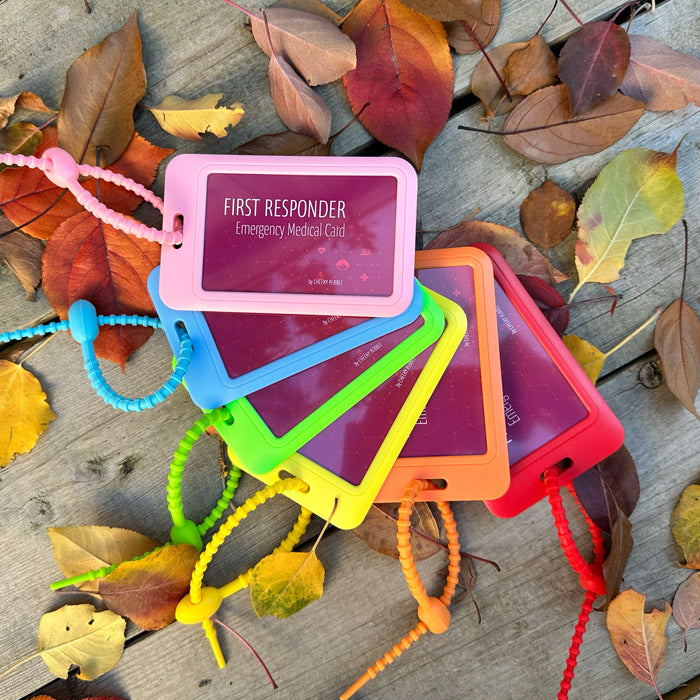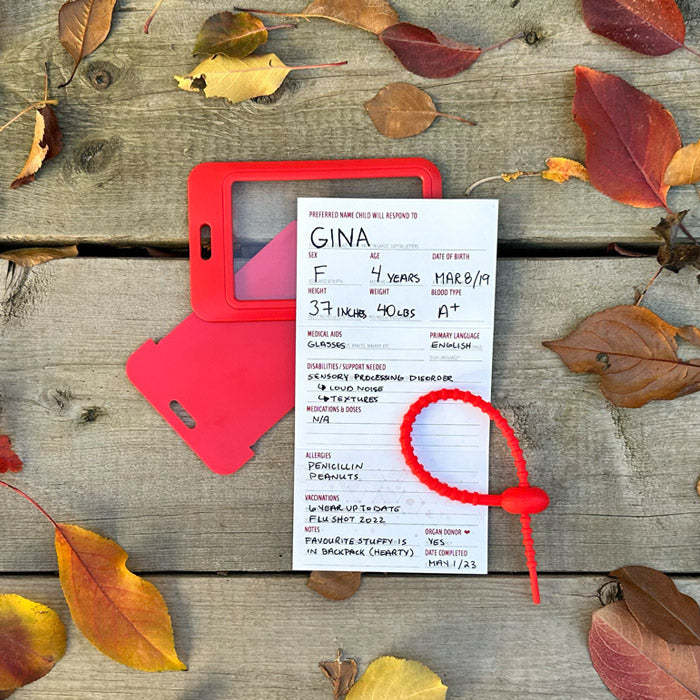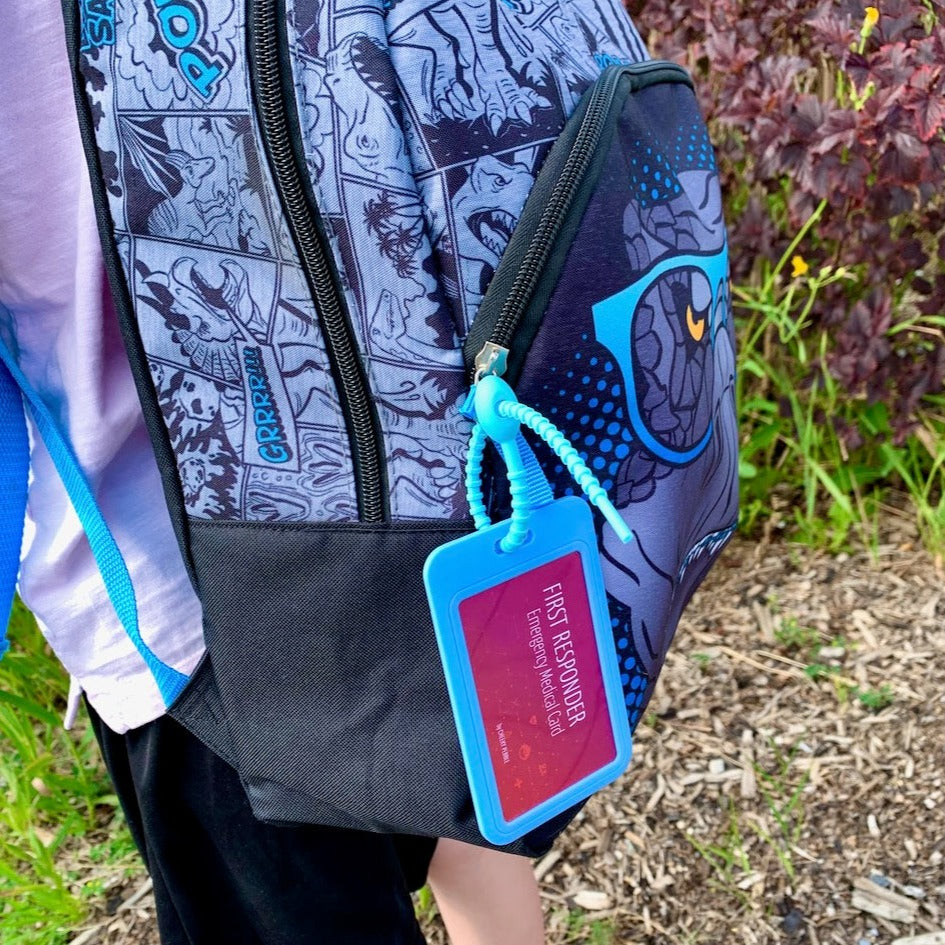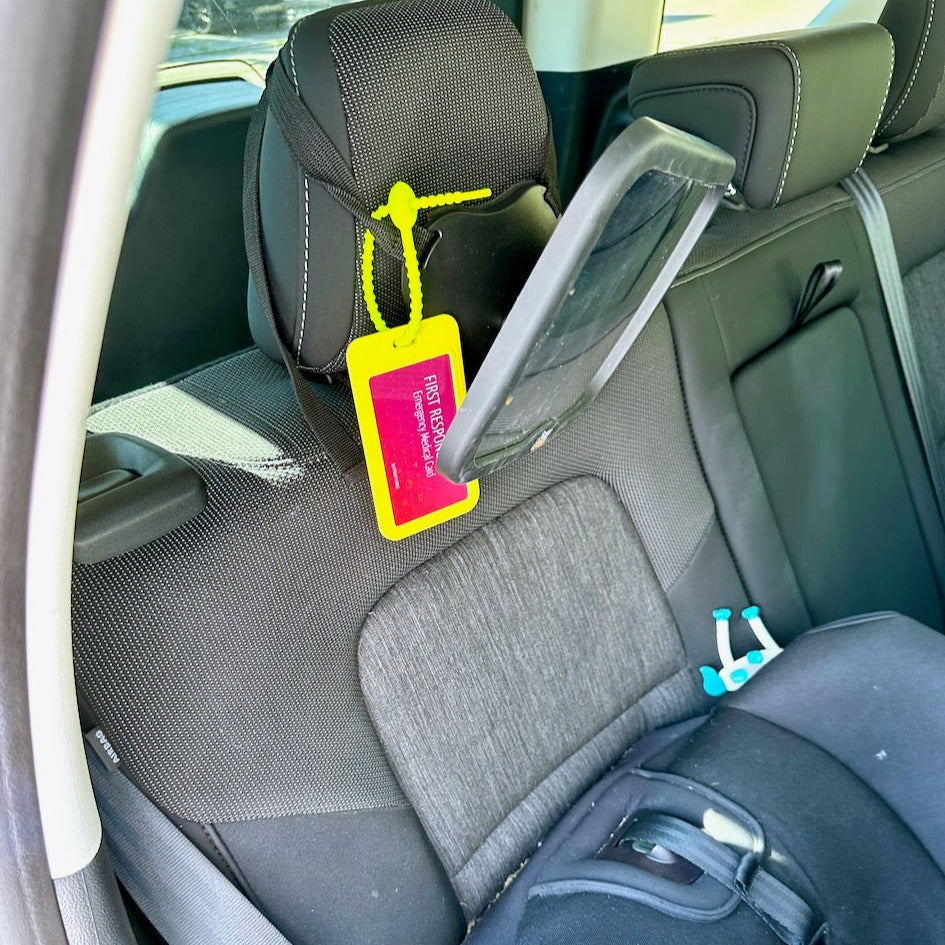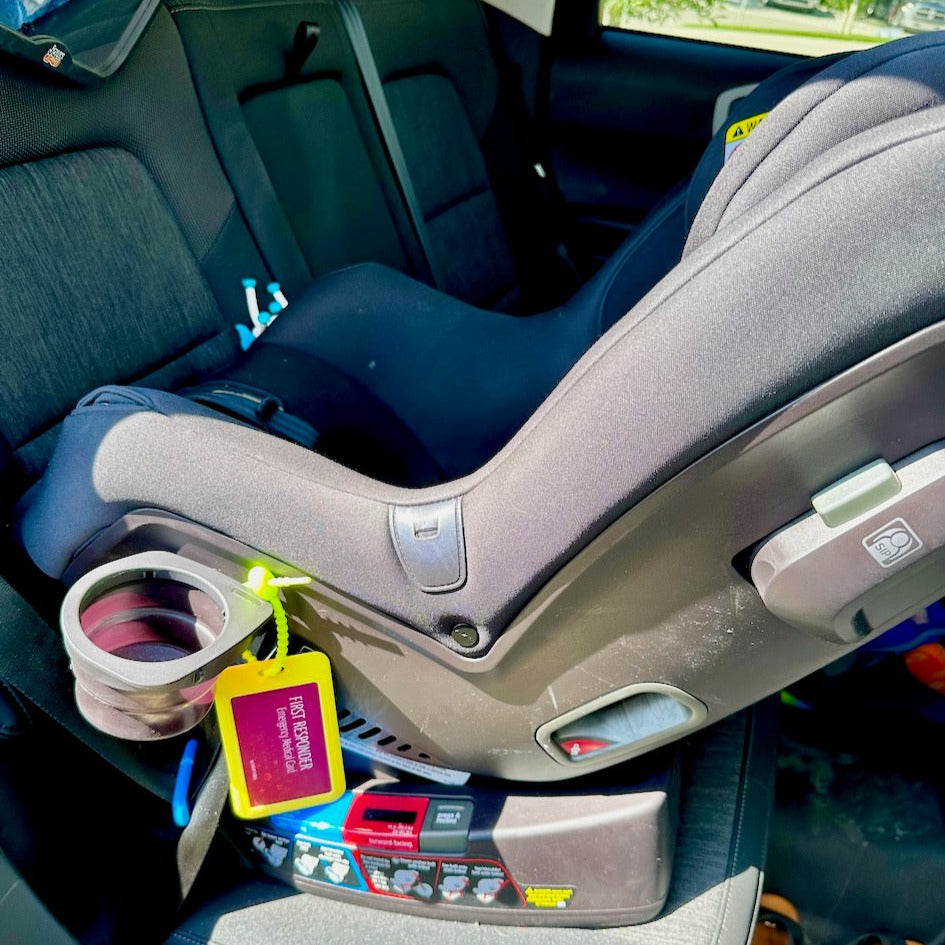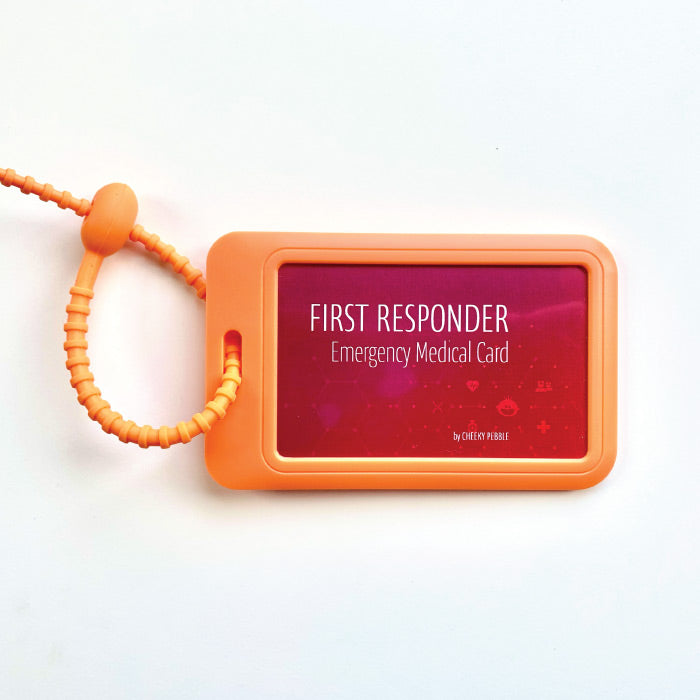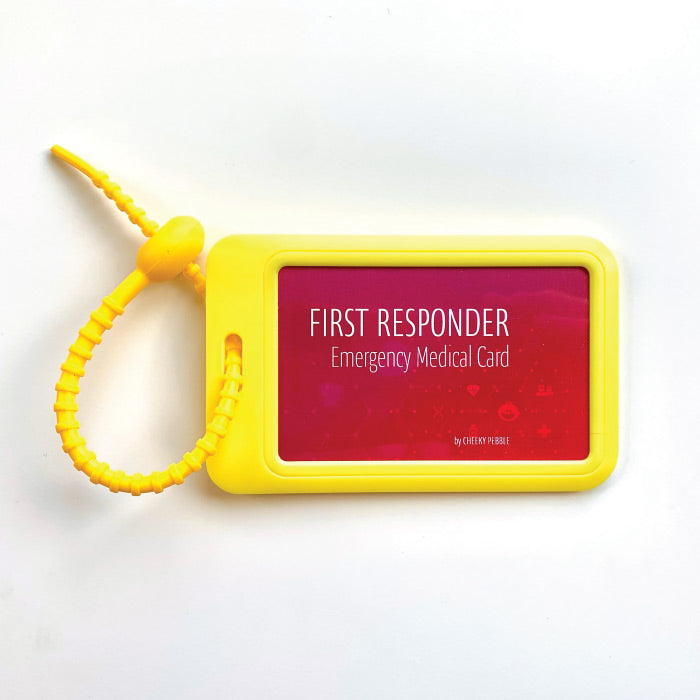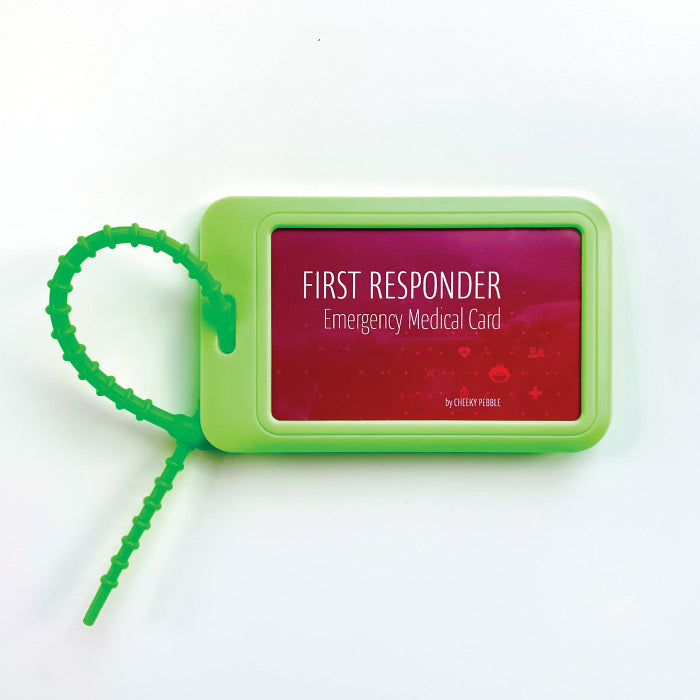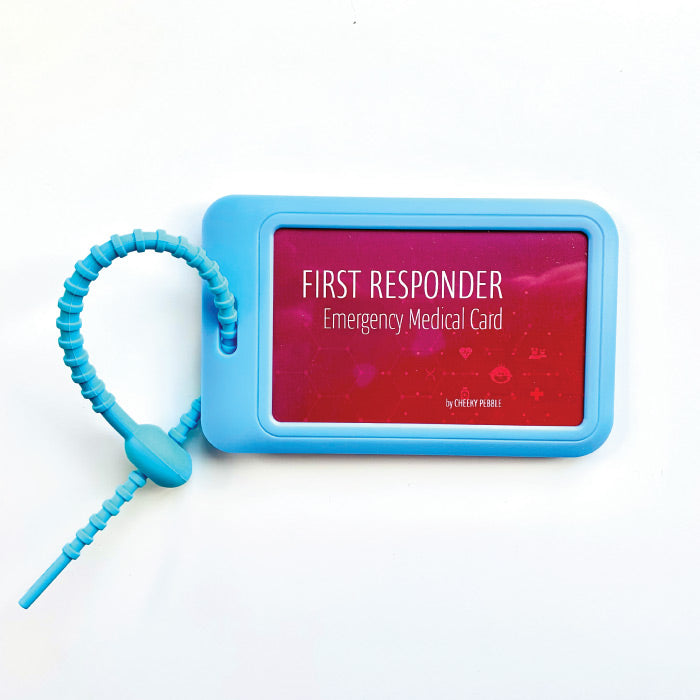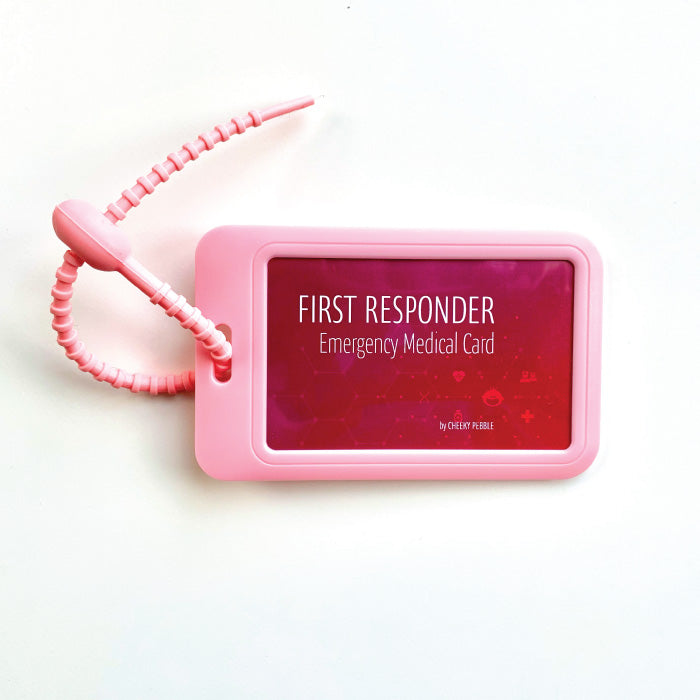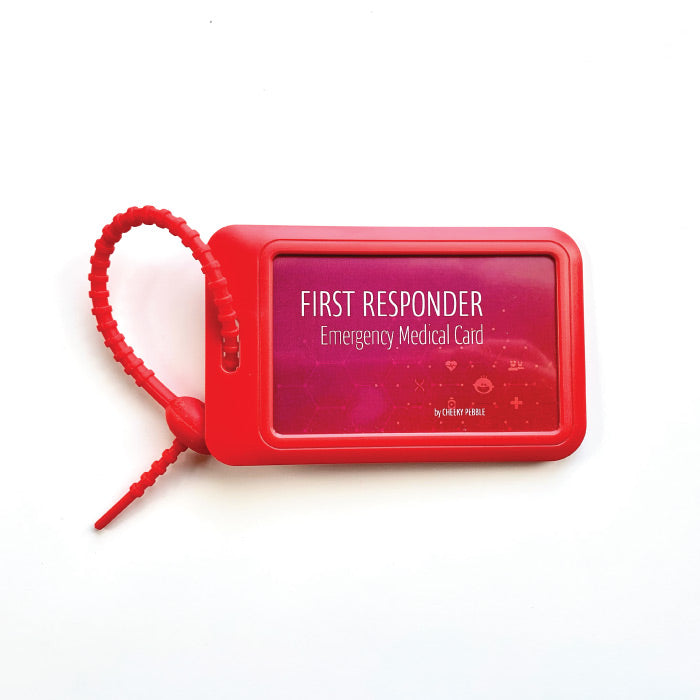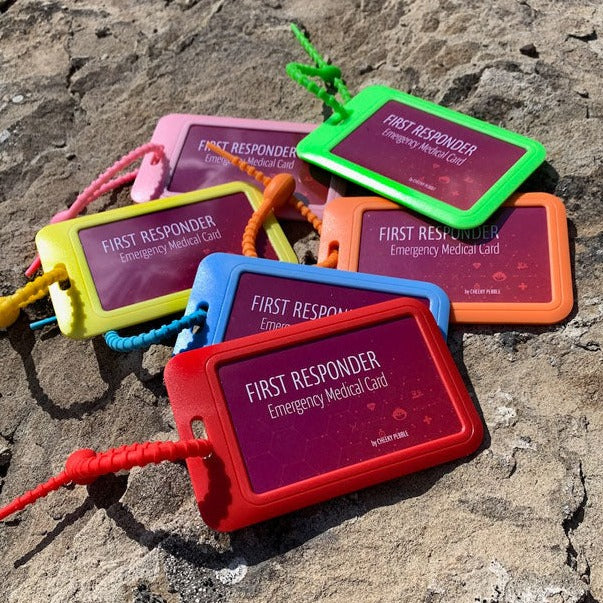 At a glance
What is a First Responder Emergency Medical Card?

A business-card sized booklet containing important medical information that First Responders need to assist effectively and timely. The booklet is stored inside a brightly coloured, easy-to-see plastic case with flexible twist tie.
Why do I want a First Responder Emergency Medical Card?

Quickly provide EMS at-the-scene access to medical information about your loved one if they need assistance or are found alone.

Designed for First Responders (or other helpful adults) so they can:
- use your child's name to help reduce anxiety
- provide accurate and timely treatment if necessary
- interact thoughtfully and appropriately (e.g. special needs)
What information does a First Responder Card contain?

Crucial details for life sustaining medical assistance
Special needs or disabilities
Allergies, medications
Emergency contacts and physicians/specialists
Contains no personal information that can be misused
Where do I keep a First Responder Emergency Card?

This card travels with/on your child.

The silicone tie is versatile and can be attached in many places: carseat / diaper bag / back pack / purse / clothing / etc.
Who are First Responder Emergency Medical Card for?

These emergency cards are for EVERYONE but are particularly beneficial to people who have additional medical requirements:

Severe Allergies and Sensitivities
Autism ASD / ADHD / OCD / DMDD
Sensory Processing Issues
Impulse Control
Hearing and/or Vision loss
Mobility Concerns
Diabetes
Epilepsy
Autoimmune disorders
Kids who are prone to running away and/or not staying nearby
Can adults use these?

ABSOLUTELY! We started with children but these cards are perfect for anyone who might need extra assistance in an emergency!

Special needs individuals
Seniors
Dementia / Alzheimer sufferers
Hearing and/or Vision loss
Mobility Concerns
Diabetes
Epilepsy
Autoimmune disorders
Anything else I should know?

⚠️ Fill cards out right away and update them regularly! ⚠️

These only benefit you if they're ready

BEFORE an EMERGENCY

We recommend updating these

EVERY SIX MONTHS

to keep info accurate
Helping our more vulnerable get quick assistance when a caregiver is injured or unavailable
I love it!
Very good product! I bought this for my son and I feel more secure with it! The service is amazing!
This card is perfect for seniors who might need some extra assistance in emergencies or are found alone
Not just for kids – First Responder Emergency Cards are for everyone
Any individual who could potentially require assistance – due to
accident, injury or health condition

– and/or might not be able to advocate for themselves, would benefit from having these.
Seniors / Adults / Teenagers
Alzheimer / Dementia / Stroke
Special Needs / Autism / Sensory Disorders
Autoimmune Disorders / Diabetes / Epilepsy
Brain injuries / Hearing Loss / Vision Loss
Severe Allergies
Vertigo / Fainting / Narcolepsy
Drug and Alcohol Abuse
Extreme Athletes and Outdoorsmen
This card travels
with/on your person.

Update every six months if they are growing or information is changing a lot
Include a Child Identity Emergency Kit?
The first 24 hours after a child goes missing are critical. Having your children's details ready for Law Enforcement is extremely helpful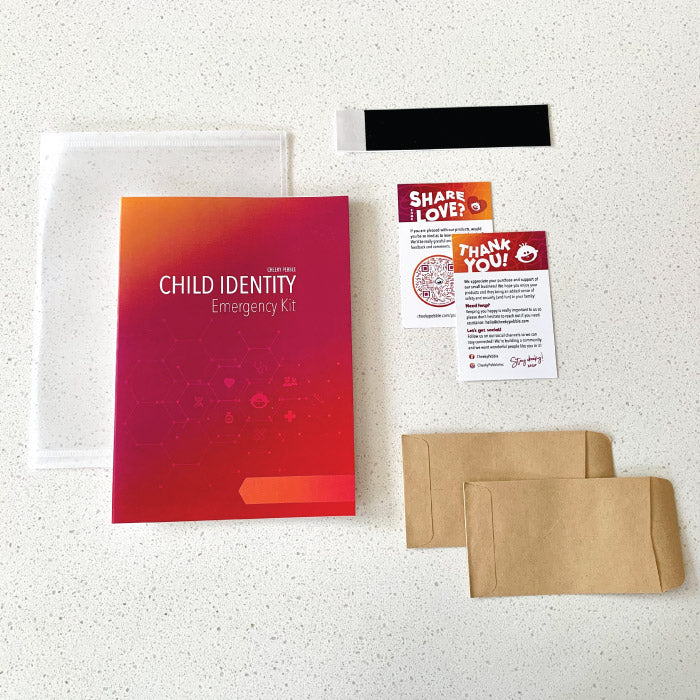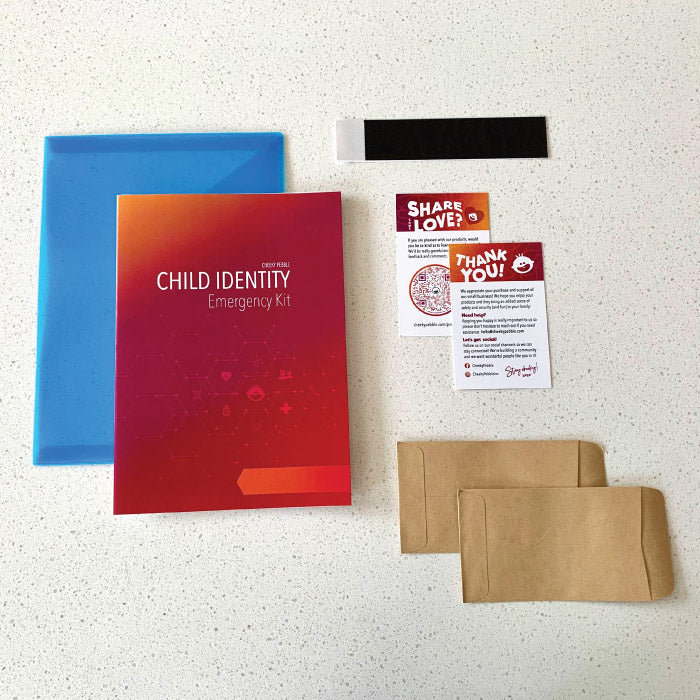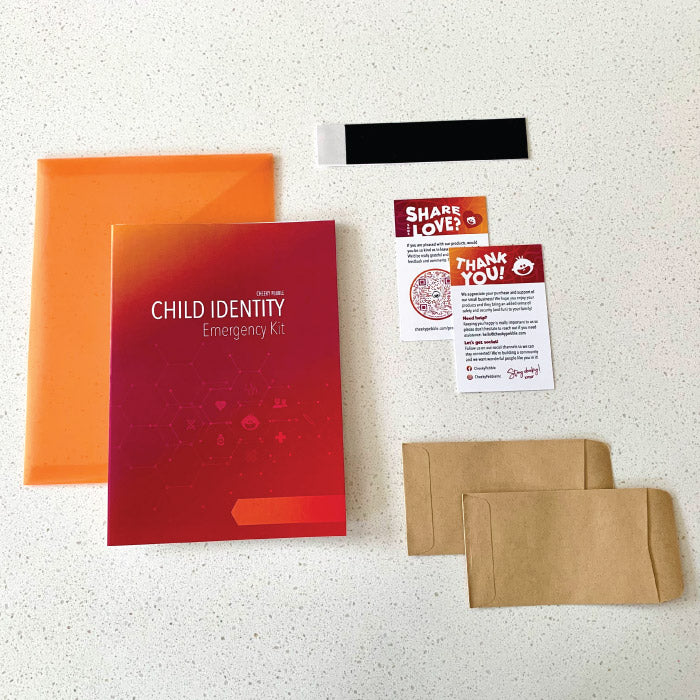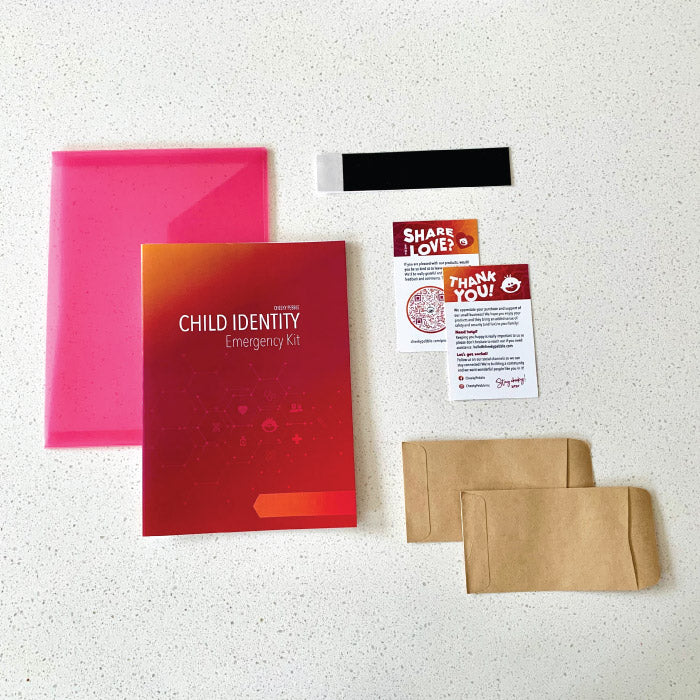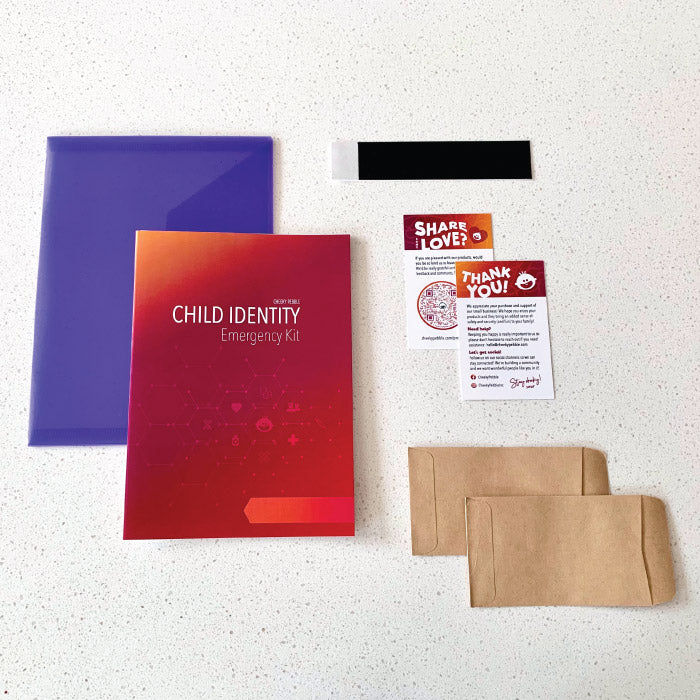 Save valuable time and allow authorities to immediately begin their investigation by having your child's detailed physical and medical information, along with current photograph and DNA samples, prepared in advance.
Regular price
Sale price
$18.79 USD
Unit price
per
Sale
Sold out
View full details