Is pickup at the end of the day a bit of a nightmare?
Let us help you establish a FUN and ENTERTAINING safety routine with your toddler using our Kid Katcher magnets!
Sugar rush? Our Candy and Castles Kid Katcher is a fun and easy way to keep all those sticky little fingers safe in parking lots and around vehicles. Parents keep kids busy and entertained by asking them to search for hidden items all while doing what needs to be done at the vehicle. 

Each design comes with 10 questions and answers to help start the searching fun!
Regular price
Sale price
$21.05 USD
Unit price
per
Sale
Sold out
Sizing / Info

Kid Katcher Magnet is 8 x 8 inches (20.32 cm x 20.32 cm) in diameter 

These magnets can handle most weather conditions and high speeds but must be removed from vehicles before washing.
Share
View full details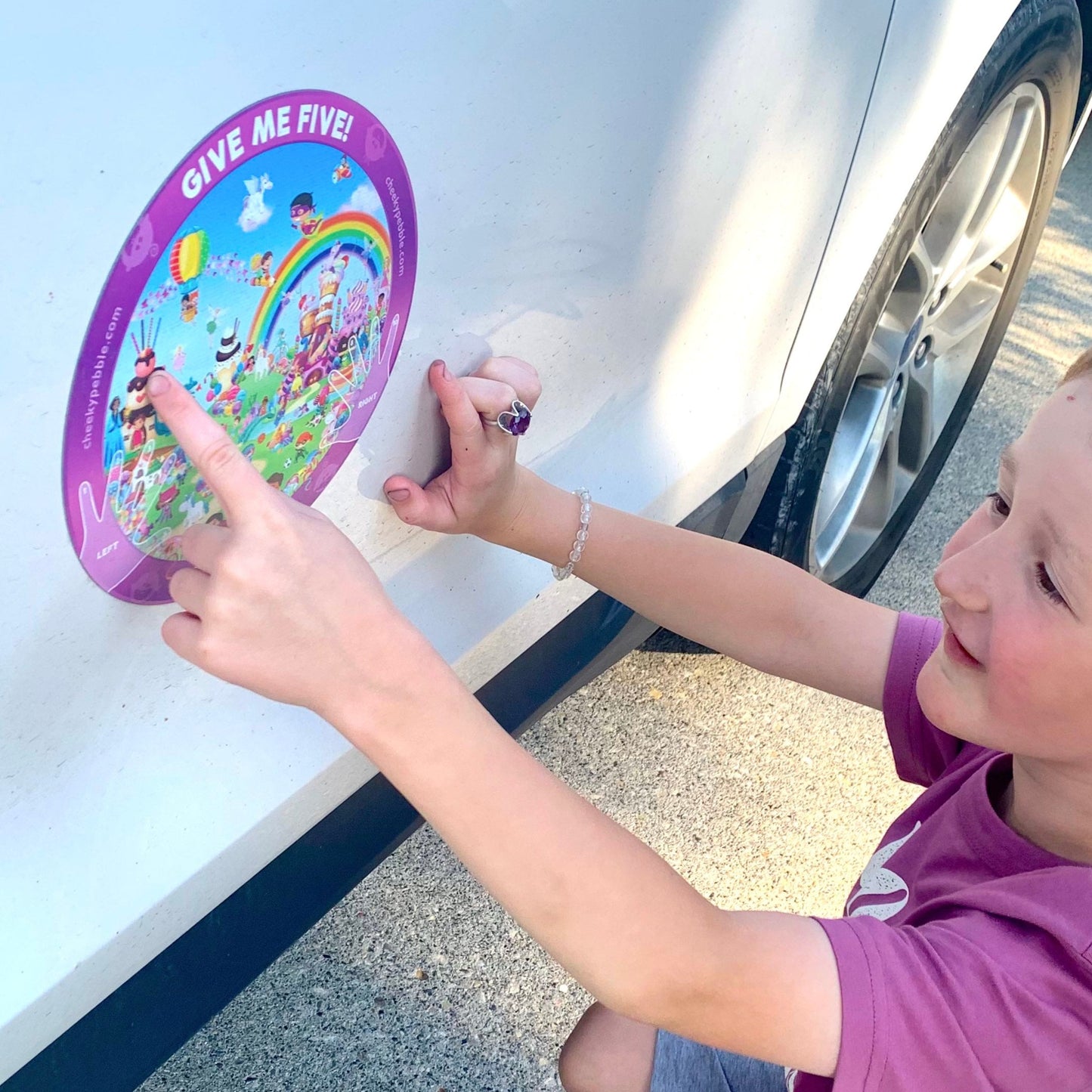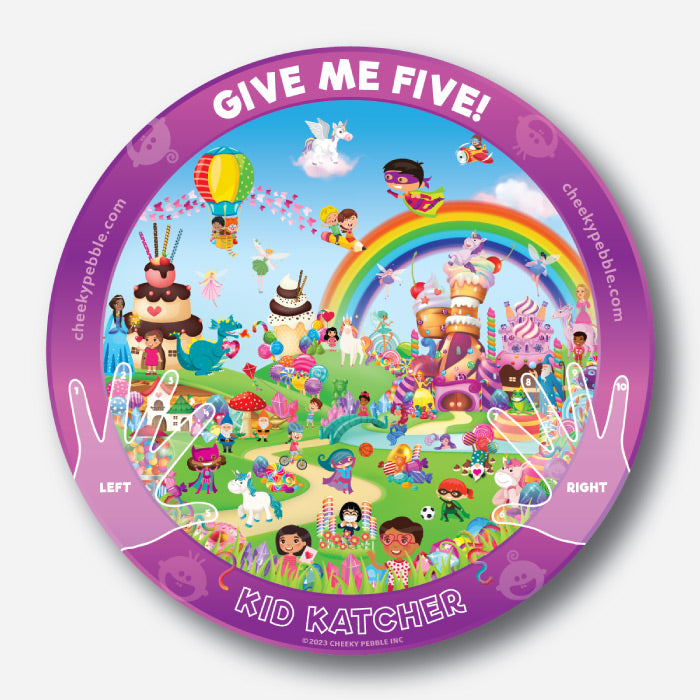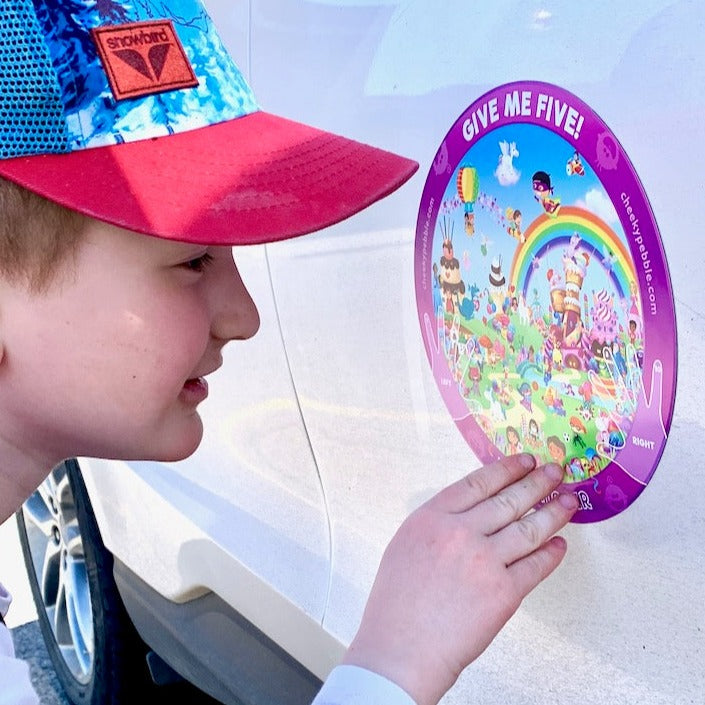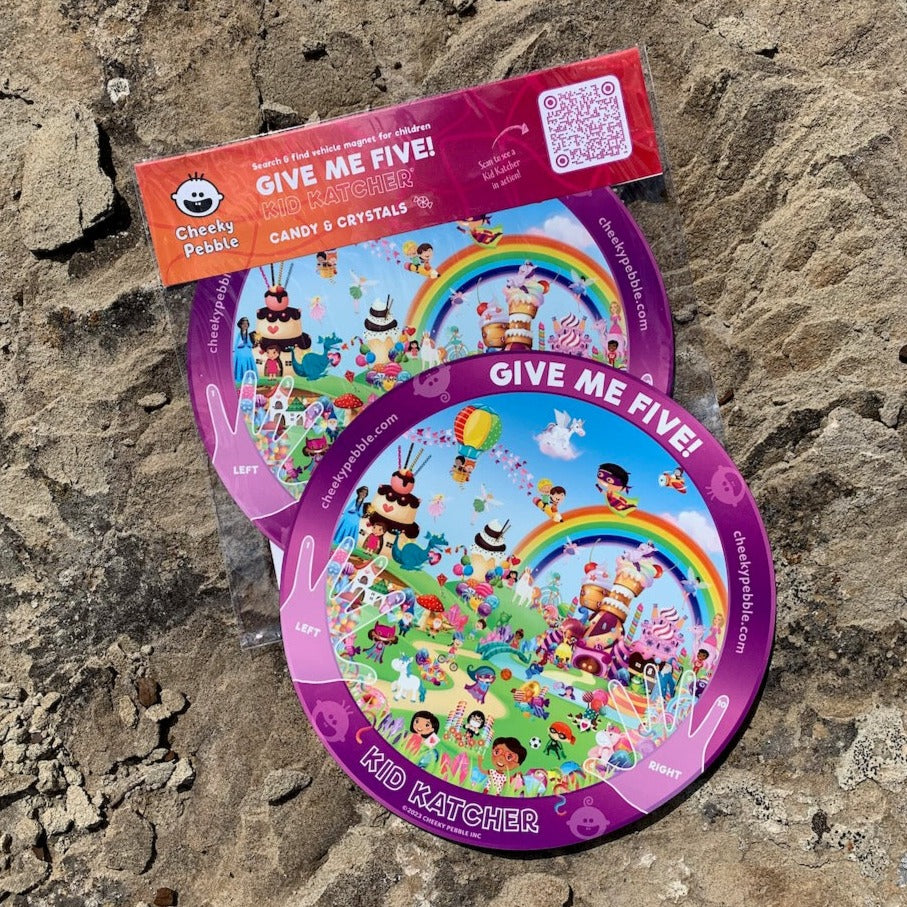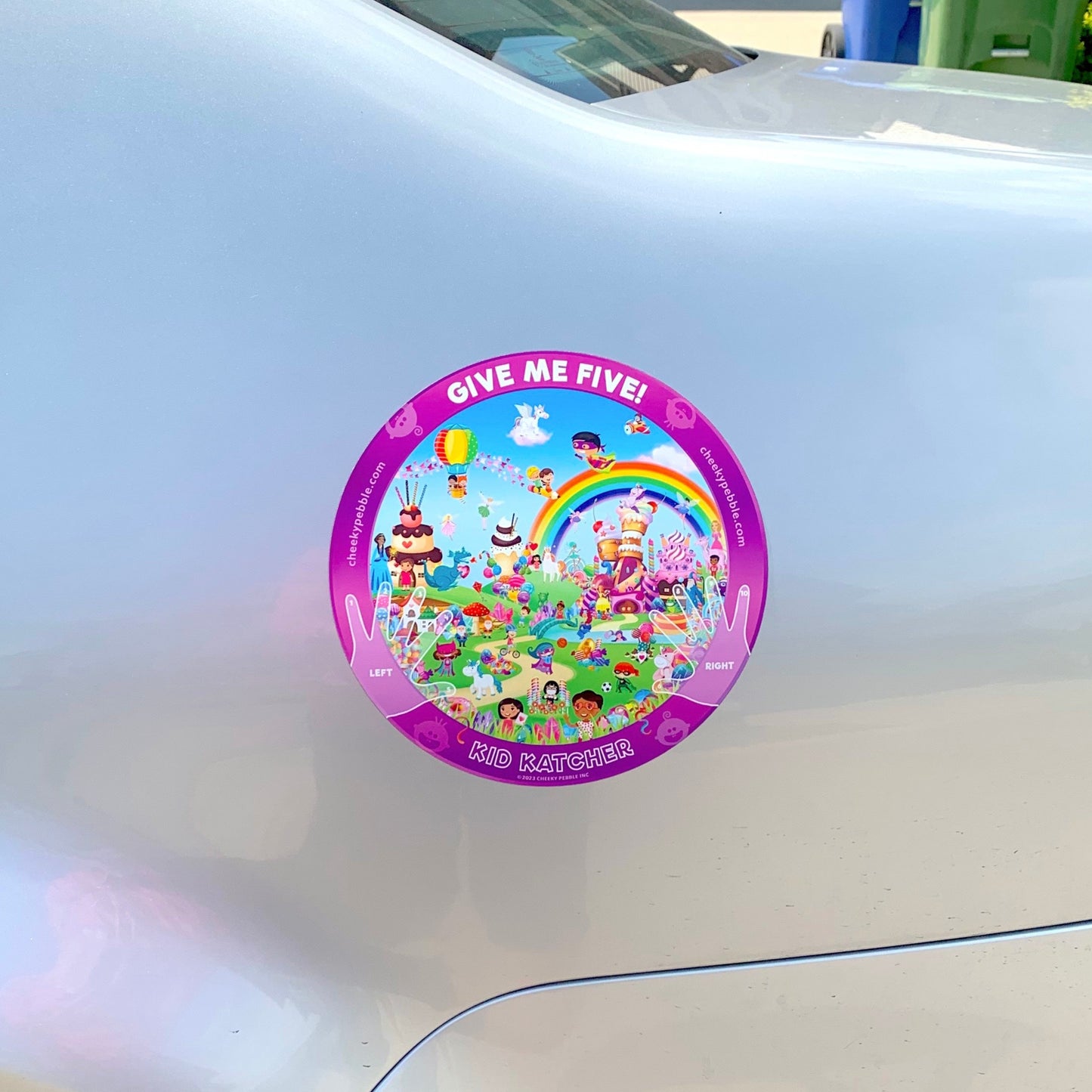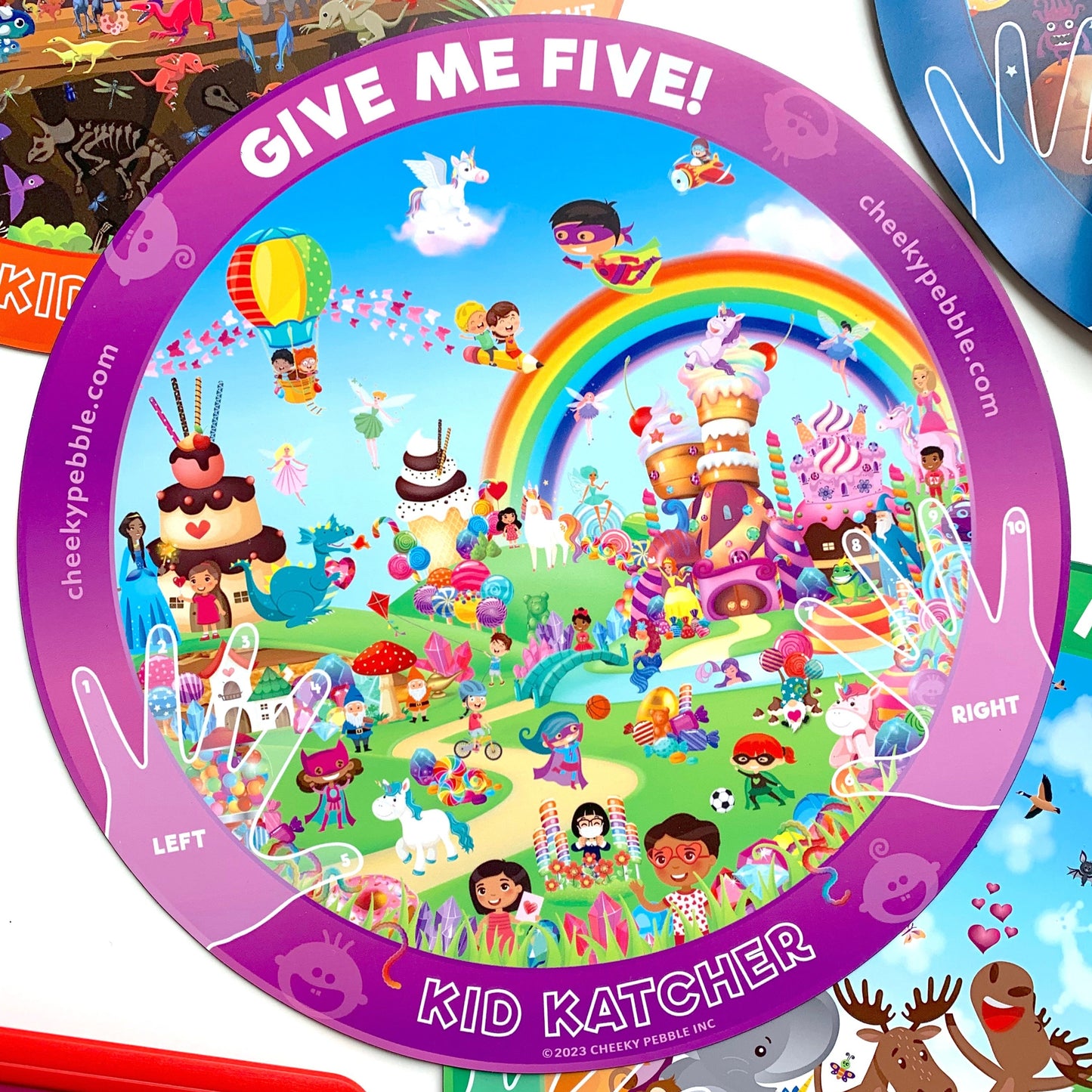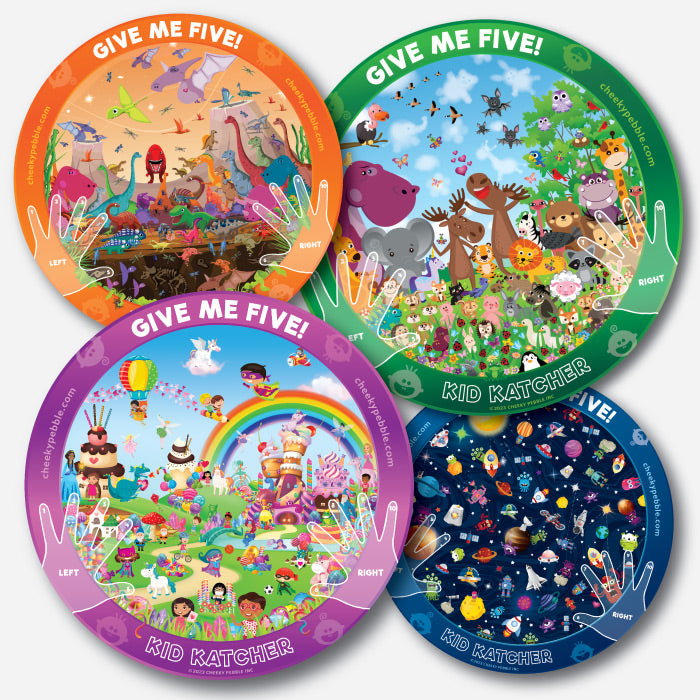 At a glance
What is a Kid Katcher?

Large 8 x 8 inch round, weatherproof magnet that attaches to the outside of your vehicle at toddler eye-level.
How do I use a Kid Katcher?

You create and play the 'Give Me Five' Safety game – which is basically asking them to put their hands on the magnet and search for new items every time.

Repetition is key so practice EVERY TIME you are at your vehicle with your child.
When do I use a Kid Katcher?

Be consistent and practice the safety routine with your children every time. Remember, repetition is essential for learning new habits and behaviours.
Where does a Kid Katcher go?

Kid Katchers are ideally placed in a Safe Zone or secure area around the outside your vehicle where children are not in the path of other vehicles.
How do they work?

✅  

Kids stay stationary beside your vehicle

where they are easily seen and heard

– Kids are not running around and getting hurt, they are safely out of harm's way

✅  

Slows kids down and focuses their attention

on a safe activity

– Kids are entertained and not impatiently interrupting you

✅  

Gives you time to get organized

and do what you need at your vehicle

– You are prepared with everything you need (no forgotten tickets or water bottles)
Anything else I should know?

⚠️ Magnets MUST be removed before washing your vehicle! ⚠️

They are durable and will last for years if properly maintained. They won't damage your car and yes they will stay on in high speeds.
Waiting is hard for kids so give them something fun to focus their energy on while you're occupied
Animal Kid Katcher in action!
"Teaching car safety has never been so enjoyable (or effective)!"
Kid Katchers are the ultimate solution for keeping young children safely beside your vehicle
Multiple designs mean kids will never get bored and with so many hidden items to search for, they will be occupied for hours!
A consistent safety routine is critical in keeping children safe around vehicles and parking lots