Kids won't stand safely outside the car while you buckle up the baby?
Let us help you establish a FUN and ENTERTAINING safety routine with your toddler using our Kid Katcher magnets!
Animal lover on your hands? Our Animal Kid Katcher is the perfect way to keep your little vet entertained and stationary at your vehicle while they're waiting. These bright search and find magnets help establish a pleasant yet safe routine with kids around vehicles and parking lots. 
Each design comes with 10 questions and answers to help start you off!
Regular price
Sale price
$21.05 USD
Unit price
per
Sale
Sold out
Sizing / Info

Kid Katcher Magnet is 8 x 8 inches (20.32 cm x 20.32 cm) in diameter 

These magnets can handle most weather conditions and high speeds but must be removed from vehicles before washing.
Share
View full details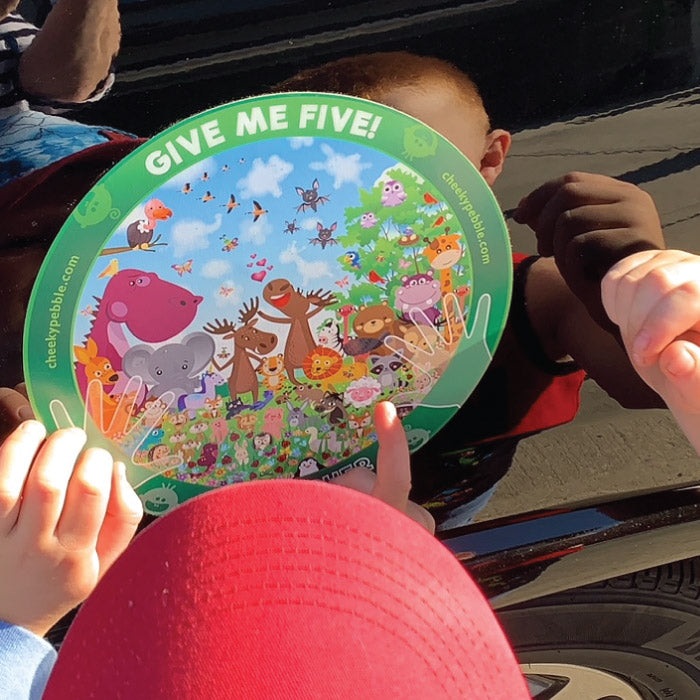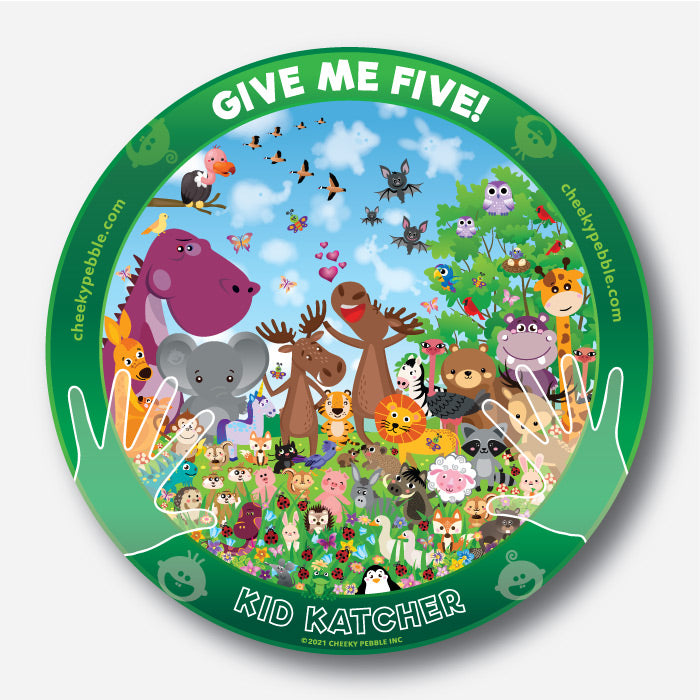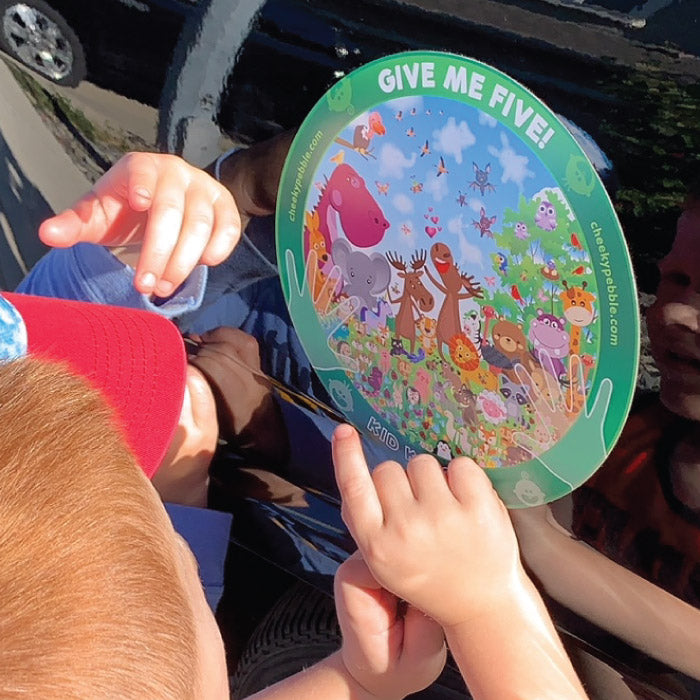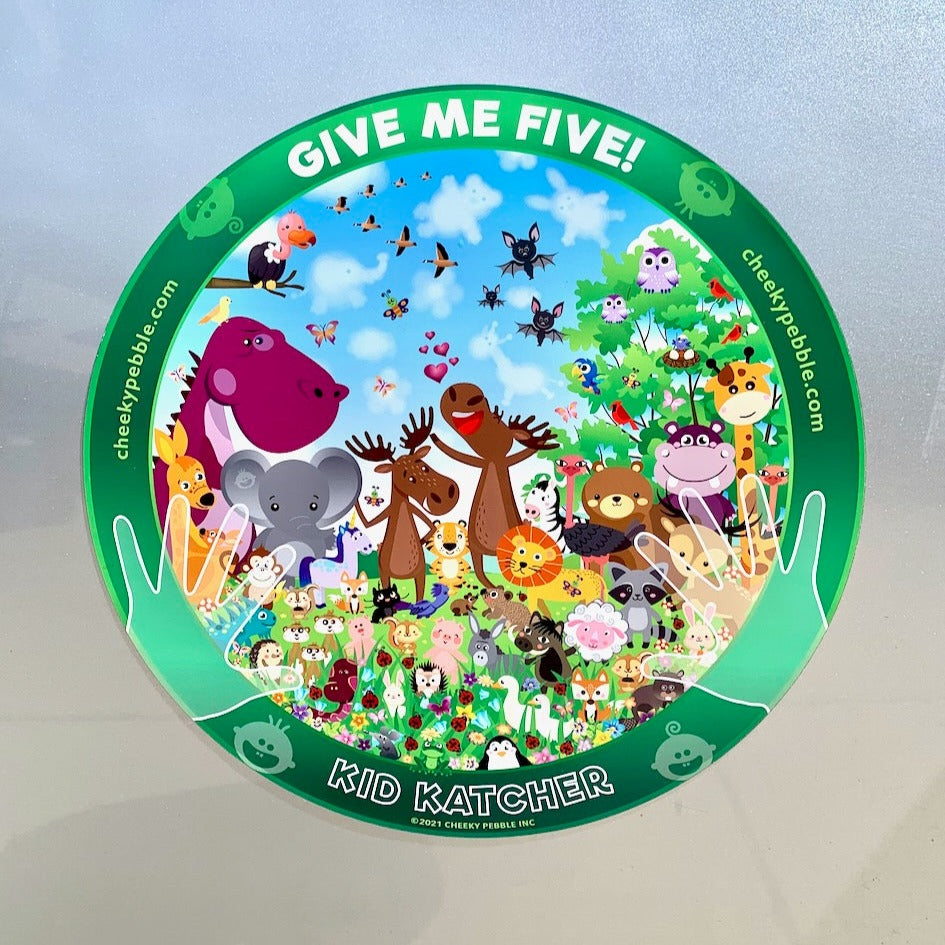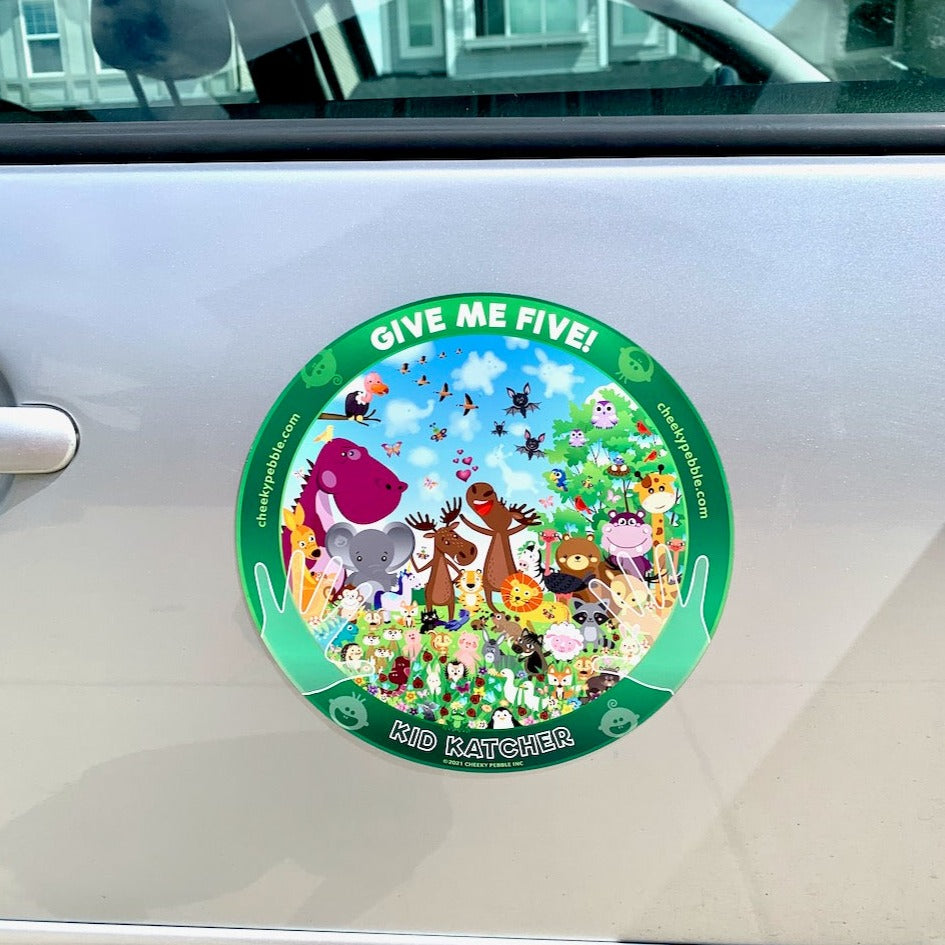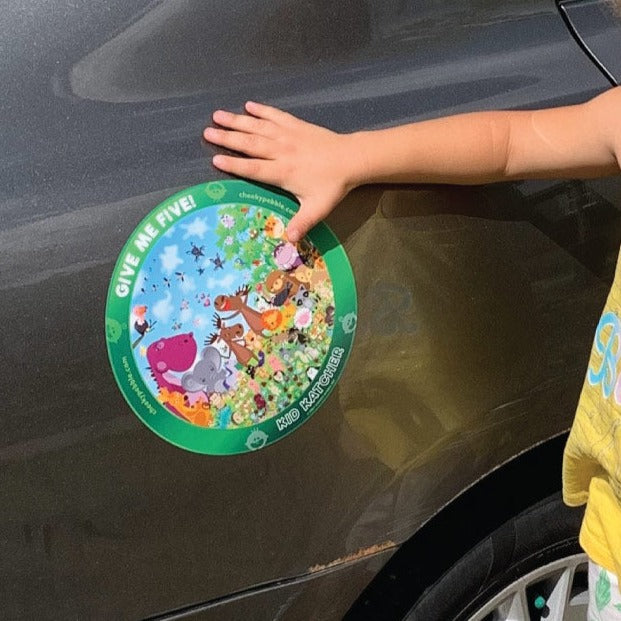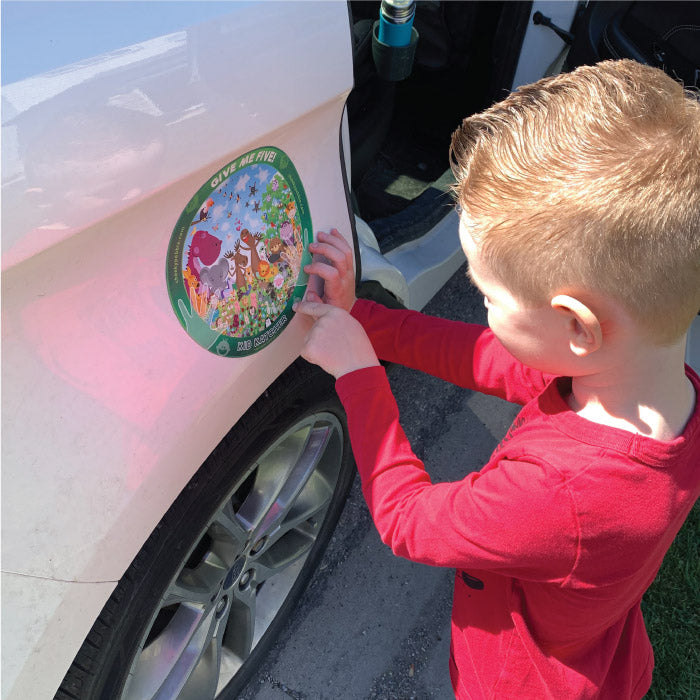 At a glance
What is a Kid Katcher?

Large 8 x 8 inch round, weatherproof magnet that attaches to the outside of your vehicle at toddler eye-level.
How do I use a Kid Katcher?

You create and play the 'Give Me Five' Safety game – which is basically asking them to put their hands on the magnet and search for new items every time.

Repetition is key so practice EVERY TIME you are at your vehicle with your child.
When do I use a Kid Katcher?

Be consistent and practice the safety routine with your children every time. Remember, repetition is essential for learning new habits and behaviours.
Where does a Kid Katcher go?

Kid Katchers are ideally placed in a Safe Zone or secure area around the outside your vehicle where children are not in the path of other vehicles.
How do they work?

✅  

Kids stay stationary beside your vehicle

where they are easily seen and heard

– Kids are not running around and getting hurt, they are safely out of harm's way

✅  

Slows kids down and focuses their attention

on a safe activity

– Kids are entertained and not impatiently interrupting you

✅  

Gives you time to get organized

and do what you need at your vehicle

– You are prepared with everything you need (no forgotten tickets or water bottles)
Anything else I should know?

⚠️ Magnets MUST be removed before washing your vehicle! ⚠️

They are durable and will last for years if properly maintained. They won't damage your car and yes they will stay on in high speeds.
Waiting is hard for kids so give them something fun to focus their energy on while you're occupied
Animal Kid Katcher in action!
"Teaching car safety has never been so enjoyable (or effective)!"
Great product!
This is a genius product. All of the Cheeky pebble products are. They are very thoughtfully made. She has thought of every detail to keep your child safe. We talked in depth at a market and the knowledge and passion she has about these products and safety is inspiring! Thank you for making such a great product for parents to insure their child's safety and I will be sharing and gifting these all the time!
Amazing Product
It gives a fun target for the wee one to connect with when unloading the car and keeps little fingers off the paint lol. Great product!
Help with twins
I am a Calgary based mom of twins who will be 2 in a few weeks. I was finding the pick up at daycare in the parking lot getting a bit crazy and so I saw the Give Me 5 Decals and thought I needed to give it a try. I started on Monday and this week has been so much better. I can lift one into the car without the other taking off right away. I likely will need another soon since they are already fighting over the one I have.
Thanks!
Fidget for the Mind
This is a great product to keep your kid distracted while you put groceries in the car or put another child in the car. It keeps them distracted and close to your vehicle. It allows your child to find and count. Great for pre-k and K ages.
High five magnet
Love that my kids can keep occupied for a couple minutes with this on my vehicle while I unlock the doors.. Ect! Such a brilliant idea. My kids love it!
Kid Katchers are the ultimate solution for keeping young children safely beside your vehicle
Multiple designs mean kids will never get bored and with so many hidden items to search for, they will be occupied for hours!
A consistent safety routine is critical in keeping children safe around vehicles and parking lots